Coronavirus
Update 31.03.20
Guidance on how to help safely and how to stay safe when accepting help from others: https://www.gov.uk/government/publications/coronavirus-how-to-help-safely--2/coronavirus-how-to-help-safely#how-to-stay-safe-when-accepting-help-from-others
---------
Information from Victim Care Devon and Cornwall on support for those suffering domestic abuse: 
During Covid-19 some people may be feeling unsafe because they are having to spend more time at home with a partner, or family member who is harming them in some way. Domestic abuse comes in many forms and during Covid-19 some people will be feeling very isolated. Although Covid-19 has affected the way in which some services are running right now, help is still available.
In a non-emergency situation to talk about what's happening to you, and for advice on what help and support you may need you can live chat with Victim Support 24/7 online at victimsupport.org.uk/help-and-support/get-help/support-near-you/live-chat - click on the 'Chat Now' button - or call them on 08 08 16 89 111. You can also contact the Victim Care Unit on 01392 475900.
You can report domestic abuse to the police by phone and online. Find out how on the Devon and Cornwall police website. In an emergency always dial 999. If it's too dangerous to speak in an emergency you can make a silent call to the police. Find out how at: devon-cornwall.police.uk/contact/silent-999-calls/
You can also check out self-help guides to help you cope with abuse or find a service where you live.
----------
What to do if you receive care from Devon County Council: https://www.devon.gov.uk/document/people-who-receive-care-arranged-by-devon-county-council/
----------
Local authority 'shielding' coordination hubs created to support Devon's most vulnerable
A network of 'shielding hubs' coordinated by local authorities is rapidly being set up across Devon to immediately help those most at risk from coronavirus (COVID-19) with urgent food, medicine and care supplies.
The council is working with Devon County Council and other local District and City Councils in response to the Government's announcement that 1.5 million of the UK's most vulnerable people are being asked to 'shield' in self-isolation for at least 12 weeks… 
Read the full press release at: https://www.middevon.gov.uk/local-authority-shielding-coordination-hubs-created-to-support-devon-s-most-vulnerable/
----------
Latest Parking, Public Transport and Parking Information: https://www.devon.gov.uk/document/travel-and-public-transport/
-----------
Self-Employment Income Support Scheme: https://www.businesssupport.gov.uk/self-employment-income-support-scheme/
Update 27.03.20
The Government has launched a Coronavirus Whats App Service
To ensure communities are receiving factual information during this uncertain time a new Whats App service has been launched, available for free to everyone with the app.
The new service aims to provide official, trustworthy and timely information and advice about coronavirus (COVID-19), and will further reduce the burden on NHS services.
This will help combat the spread of coronavirus misinformation in the UK, as well as helping ensure people stay home, protect the NHS and save lives.
To use the free GOV.UK Coronavirus Information Service on WhatsApp, simply add 07860 064422 in your phone contacts and then message the word 'hi' in a WhatsApp message to get started.
----------
RD&E Updates
Click here for the latest info from the RD&E as of 27th March 2020. Includes info on services, visitors, research and advice.
-----------
Info on changes to the arrangements at the Tiverton Minor Injuries Unit: https://www.kentisbeare.net/news/292/77/Changes-at-the-Minor-Injuries-Unit
Recycling Centres Closed
Following the Government's announcement this evening regarding further restrictions, Recycling Centres are now closed.
--------------
Update 26.03.20
For the latest information on waste collection during the pandemic, go to: https://www.middevon.gov.uk/residents/coronavirus-covid-19-service-updates/waste-services-update/
Update 23.03.20
PLAY PARK AND HALL CLOSED
DUE TO THE CORONAVIRUS PANDEMIC
THE PLAY AREA AND THE VILLAGE HALL ARE CLOSED
UNTIL FURTHER NOTICE
-FOLLOWING THE ANNOUNCEMENT FROM HM GOVERNMENT 23/03/2020. Kentisbeare Parish Council.
Full guidance on social distancing: https://www.gov.uk/government/publications/full-guidance-on-staying-at-home-and-away-from-others
-------------------
With this rapidly changing situation it is important that everyone keeps up-to-date with the news and guidelines, via the television and the radio. Please click the title above to see some links to useful websites:
Public Health England: https://www.gov.uk/government/organisations/public-health-england
NHS website: https://www.nhs.uk/
DCC website: https://www.devon.gov.uk/document/coronavirus-advice-in-devon/
MDDC website: https://www.middevon.gov.uk/residents/coronavirus-advice/
Guidance on social distancing: https://www.gov.uk/government/publications/covid-19-guidance-on-social-distancing-and-for-vulnerable-people/guidance-on-social-distancing-for-everyone-in-the-uk-and-protecting-older-people-and-vulnerable-adults
-------------------------------
Message from MDDC:
Staff at Mid Devon District Council are working tirelessly to ensure our services continue to operate within our communities. In light of the Government's action to limit social contact and travel, as well as our own reduction in staff numbers, the Council must now adapt its working to ensure services are prioritised according to need.
We have taken the decision to significantly reduce the public opening hours to Phoenix House and from Monday 23rd March our opening hours will be:
10am to noon on Mondays, Tuesdays, Thursdays and Fridays. Phoenix House will be closed to the public all day on Wednesdays. Even when the offices are open we would urge anyone who can to access our services online rather than in person.
We are working closely with our partners including other local authorities, Public Health England and Central Government to ensure the public continue to receive services such as waste and recycling collections, access to benefits and use of our three leisure centres.
Our efforts to support local businesses are also at the forefront of the work we are doing and we are actively working with Central Government to secure prompt access to funds for small and medium businesses across the district.
The Council has also suspended all polls with immediate effect. This includes by-elections that are already underway, therefore the Tiverton Town Council by-elections that were scheduled for 16 April 2020 and the Taw District ward by-election scheduled for 7 May 2020 will be postponed until further notice.
Stephen Walford, Chief Executive, said: " I want to reassure you that we have continuity plans in place to ensure we can flex our resources and alter our services when we need to.  It may mean there are changes to the way we work and how you receive these services but please be assured that we are working to a plan that will ensure our work is sustainable for the long term while we are faced with this crisis. This a challenging time and people will undoubtedly be anxious about the situation and what tomorrow may hold. I would encourage you all to be supportive of your friends, colleagues and neighbours who are all alongside you facing this together."
Leader of the Council, Bob Deed, said: " All our members are looking out for their communities at this worrying and uncertain time.  I am confident we have a team of staff who will do their upmost to keep the council running in a way that supports our communities at a time when they need it most."
Please visit our website or follow us on social media @MidDevonDC for further updates. You can also sign up to receive news email alerts directly from the Council. https://public.govdelivery.com/accounts/UKMIDDEVON/subscriber/new
To access our online services please visit www.middevon.gov.uk/do-it-online
 ------------------------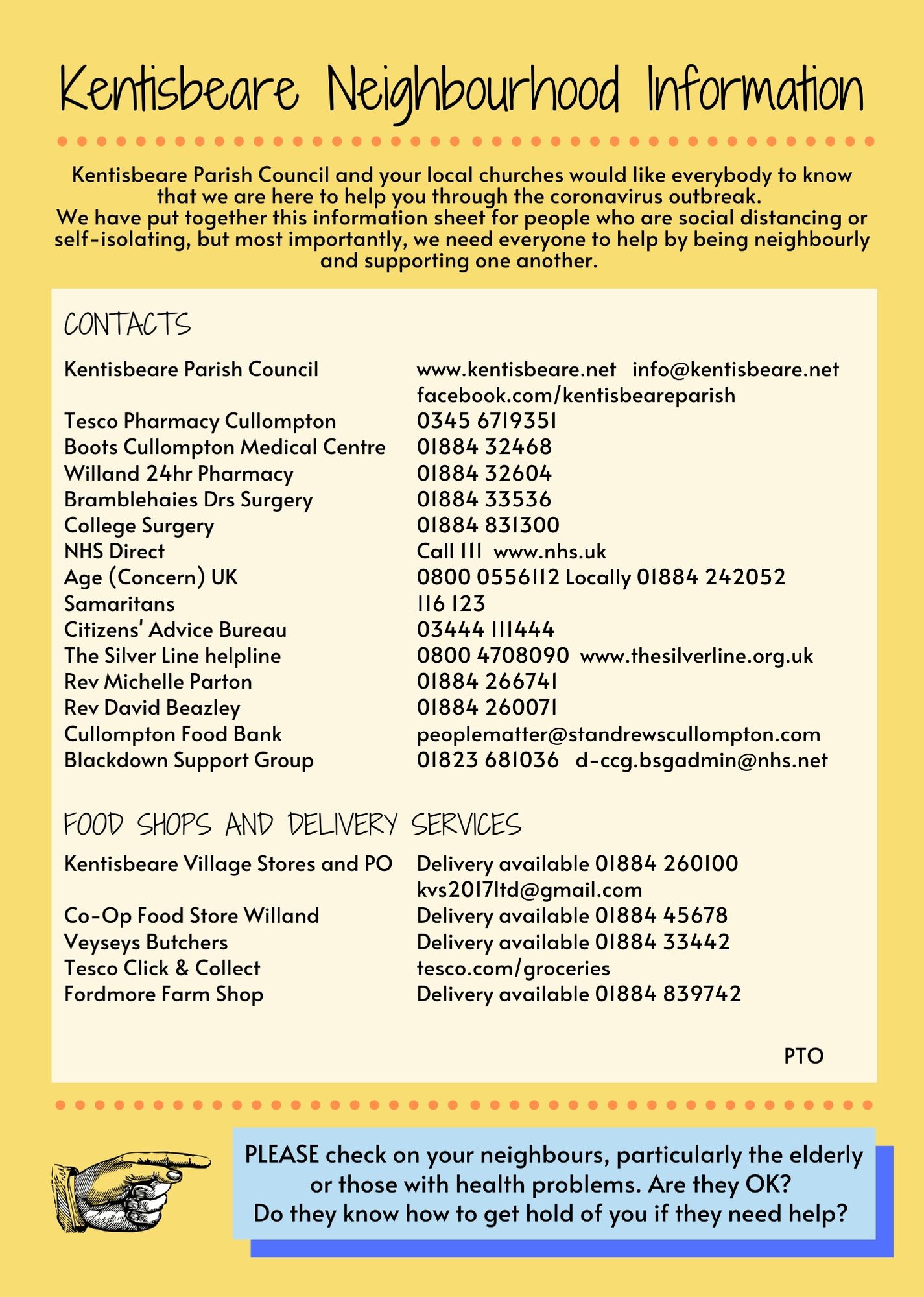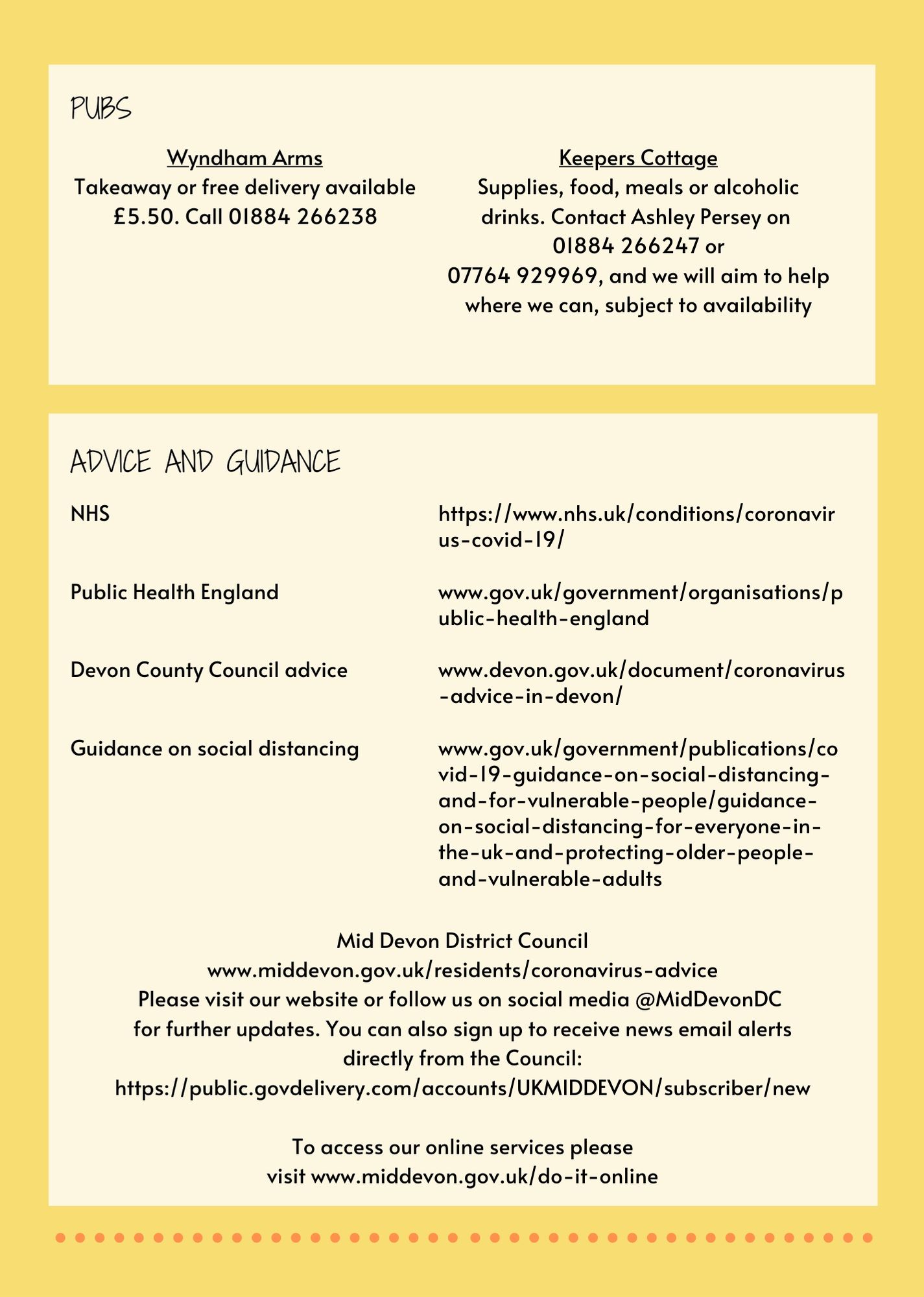 Please print off this note and share with neighbours if you are able to help with those who are self-isolating: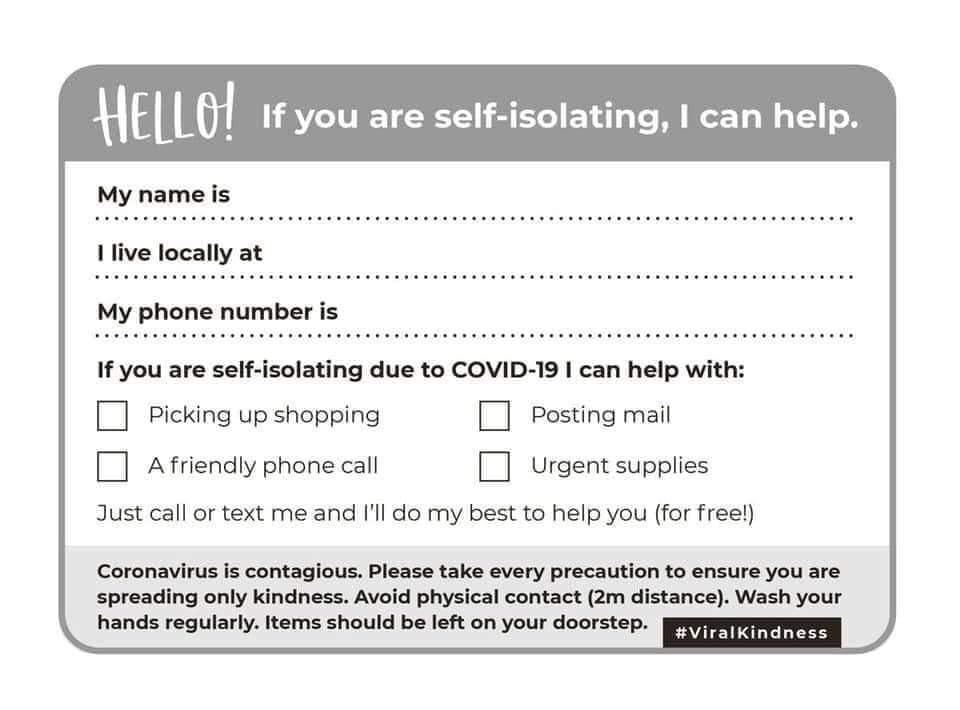 ---