Upcoming Events
HE ONLINE EQUIVALENT OF THE TELEGRAPH POLE, this is where you will find events coming up in the Parish. Please bookmark this page so you can find it quickly in an entertainment emergency.
Regular (weekly/monthly) events are listed at the bottom of this page. You might also like to check the Kentisbeare Performing Arts website.
GOT AN EVENT TO PROMOTE?
If you would like to let us know about your event, please email us in plenty of time or send us message via our Facebook page. We'll need all the details and, if you have one, a copy of your poster. 
Also... can you help run some of the annual events?
Get in touch with us by emailing maria@kentisbeare.net if you think you can lend a hand and she can pass on your message to appropriate organiser. Thanks!  
November
December
Saturday 8th December - A Festive Night Out with Kentisbeare-based choir, Voiceworx and Friends at the Venue, Uffculme.
Christmas Eve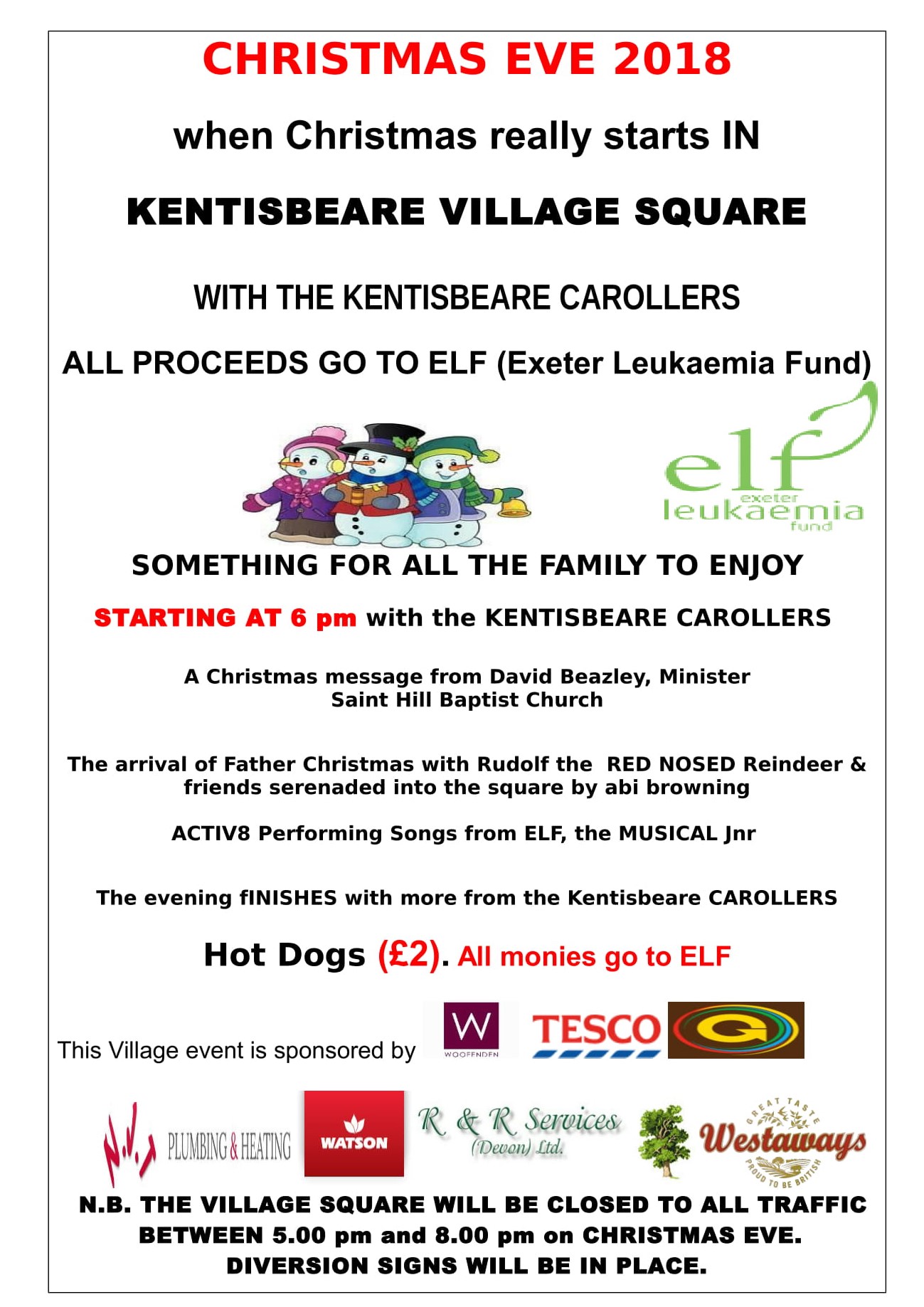 Regular Events
KENTISBEARE VILLAGE HALL 
St Marys Home Group meet at Ashwood, with Sarah & Chris Pritchard. Bible discussion led by David Lewis - full details to follow
Sun - Active8 Theatre Group. 3pm.  For ages 8-18 (term time - check website for dates)
SAINTHILL
Mon - Youth Club Juniors (School Years 1-6), 5.30-6.45pm 
Mon - Youth Club Seniors (School Years 7-9) 7.15-8.45pm
Youth Club runs in term time only.   Contact David 01884 260071
BLACKBOROUGH VILLAGE HALL
Mon - Art and Craft Club, 1.30-4pm (contact Peter Masters 01884 266834)
Tue - Ashtanga Yoga, 6.30 - 8pm (contact Chris Croft 01884 855759 or email yoga@ashtangaworkshop.com

- beginners welcome).

Fri - "Early Doors", First Friday of the month, 6-8pm
Fri - Supper Club, Last Friday of the month, Bar Open from 7.30, bring a dish or general drinking.
WYNDHAM ARMS 
Tue - Pilates, 2-3pm
Wed - Pilates, 9-10am and 10.30-11.30
(please check which classes are running before attending Pilates)
Sun

- Every other Sunday evening, pub quiz 8pm

Wed - Monthly coffee morning 3rd Wednesday each month 10.30-12
Contact the pub for more details. 
---