Latest News
A taste of history
February 2, 2015
---
What was Kentisbeare like in the late 1800s?
In 1870-72, John Marius Wilson's Imperial Gazetteer of England and Wales described Kentisbeare like this: 

KENTISBEARE, a parish in Tiverton district, Devon; near the river Culme and the Bristol and Exeter railway, 3½ miles NE by E of Collumpton. It has a post office under Collumpton, and a fair on Whit-Wednesday. Acres, 3, 720. Real property, £6, 162. Pop., 1, 068. Houses, 197. The property is divided among a few. The manor belongs to the Earl of Egremont. The living is a rectory in the diocese of Exeter. Value, £486. * Patron, the Earl of Egremont. The church is of the 14th century; comprises nave, chancel, and S aisle, with W pinnacled tower; and contains a finely carved screen, and monuments of the Walronds, the Eveleighs, and the Whitings. There are a Baptist chapel, and charities £33.
Source: GB Historical GIS / University of Portsmouth, History of Kentisbeare in Mid Devon Map and description, A Vision of Britain through Time 
http://www.visionofbritain.org.uk/place/1856
Shortly after this, 1881 census information about what jobs people were doing showed, not too surprisingly, that most men were in farming and most women in domestic service: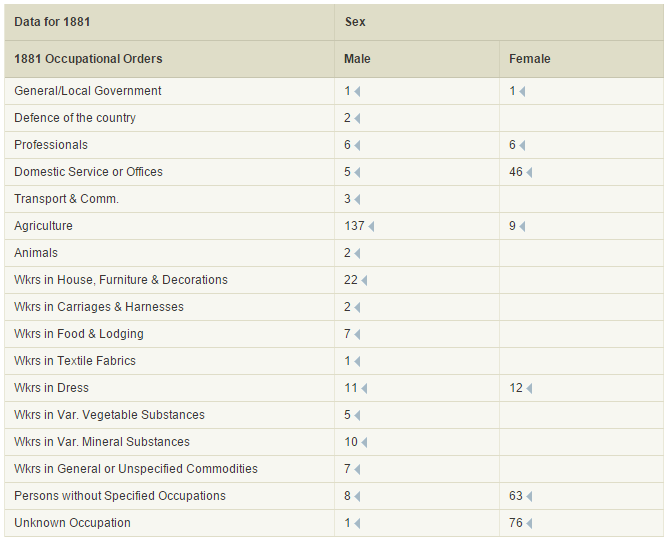 Source: Matthew Woollard (History Data Service, UK Data Archive, University of Essex). Role: editor.Restrictions on use: Statistics derived from the 1881 microdata for individual localities may be reproduced provided the contributors are acknowledged.
 
---