Latest News
E. Cullompton Consultation – new date added
September 27, 2022
---
EXTRA date for staffed exhibition: in Kentisbeare Village Hall on Tuesday 18/10 from 4pm to 7pm
Material is also available to look at in the committee room of the hall (unstaffed) on the following dates/times up to and including Thursday 20/10
Monday 6pm – 8.45 pm
Tuesday 9am – 10am (not 18/10)
Tuesday 1.45pm – 3pm (not 4/10 or 11/10)
Weds 8.45am – 11.30 am (not 12/10)
Thursday 5pm – 6.15pm and 7.30 – 9pm.
Sunday 9.30am-12.45pm (not 9/10)
Also Saturday morning 08/10 – 10am until 12noon
Find out all the info here: https://www.eastcullompton.co.uk/
Mid Devon District Council is preparing a Masterplan Supplementary Planning Document (SPD) for East Cullompton and is now consulting on a draft of the document.  This SPD sets out Mid Devon's emerging thinking for the development to guide future planning applications and ensure co-ordinated and comprehensive delivery of the development.
The website gives you an opportunity to view the latest draft masterplan and to ask questions and give your feedback on what is being proposed.
The consultation is open until 1 November 2022.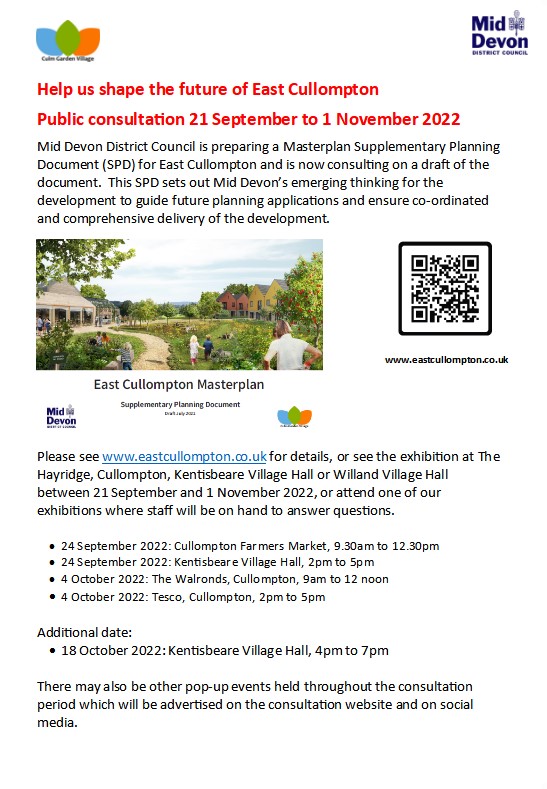 ---